Quirky Custom Corporate Gifts, Worthy of oohs and aahs!
33 Success Stories with Corporate Branded LEGO® Minifigures and Sets
---
Your company thrives on thinking outside the box. Why settle for mugs and pens to represent you?

Corporate gifts have never been so lovable . . . until customizable LEGO® minifigures and sets came along.

You remember how much you loved LEGO® sets as a kid, don't you? It turns out, so does everyone else. They grew up to be your target market. And now you've discovered a playful way to leave a lasting impression.
Minifiglabs helps companies capture their unique personality by producing customized LEGO® minifigures and sets. Whether the goal is to cultivate a happy workplace, promote the brand, or create marketing buzz around a product launch, LEGO® minifigs and sets can do the trick.

Steal some ideas from dozens of the most innovative companies who've already partnered with Minifiglabs, including Google, Cisco and Sony.
Build Lifelong Customers & Happy Employees
33 Success Stories with Corporate Branded LEGO® Minifigures
Discover how to . . .
Cultivate a fun workplace by rewarding employees, celebrating anniversaries, and training staff
Engage your customers and clients with branded giveaways they will keep
Be the hit at the next conference or trade show
Make product launches sizzle with limited edition accessories
Educate the public about your work with a tactile model
Sell bespoke minifigs for fundraising
As you'll see in the FREE idea ebook, no project is too complicated for the experts at Minifiglabs.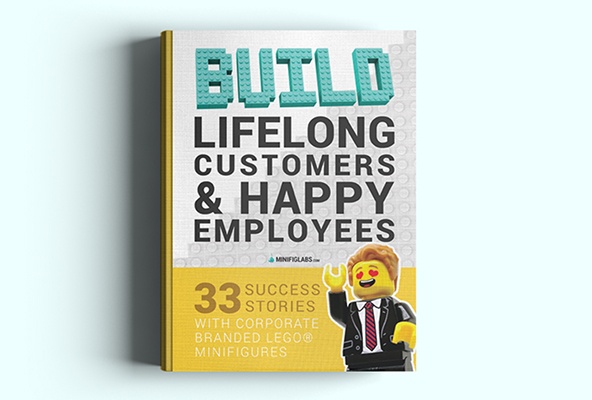 What makes Minifiglabs different from other suppliers?
A diverse group of designers, animators and production engineers, we're masters of the LEGO® art style and customization. Every member of our team is fully immersed in the entire process from designing to printing. We'll go the extra mile to understand your unique needs. We'll make sure your creations blend in seamlessly with existing LEGO® minifigures and sets.
What our customers are saying . . .
Working with the Minifiglabs team was truly enjoyable. They were meticulous and patient ensuring that the minifigures were customized to our requirements and delivered on time despite the multiple design iterations. They were responsive to our inquiries which made the process extremely easy to coordinate and collaborate. All in all, great customer service with impeccable products! —Grace Koh, Accenture
We inquired with several suppliers. We needed a company that could make very customized minifigures without requiring huge amounts for a minimum order. Minifiglabs was the most responsive by far and the easiest to work with. Would definitely recommend! —Brigitte Duong, Invoice2go
I can't thank you enough for your help with getting these little guys over to us. They were such a big hit at the party. —Carol Calhoun, SANS Institute (Escal Institute of Advanced Technologies)
Working with Minifiglabs was an absolute pleasure. They are professional and efficient, and the product is excellent! The promotional items were well received by coworkers and customers alike. I highly recommend them. —Tamiema McBride, NetApp
When Singapore American School asked me to find a company that created custom LEGO® figures for our students, they had two things in mind: quality and affordability. I was surprised to see that there were several companies that customized minifigures in Singapore, but Minifiglabs stood out. Their product is top-notch, and we will continue to work with them in the future. —Jeffrey Pabotoy, Singapore American School
FAQs
What's your lead time?

5-6 weeks.

Do you require minimum orders?

Our minimum order quantity is 50 units. The more units you order, the more economical your order will be.

Are these authentic LEGO® parts?

Yes, our products are made of new LEGO® elements that have been repackaged or altered from their original form. We are in touch with The LEGO® Group's legal consultants and we follow The LEGO® Group's legal policies.

Where do you ship to?

All over the world.

How soon after submitting my enquiry will you respond?

We guarantee a response within one business day. If you inquire on a weekday, you'll likely hear back from us within 24 hours.

What's your pricing for custom LEGO® minifigures and sets?

Our prices vary based on many factors including quantity, colour, packaging, shipping and more. Use the free ebook to get ideas on possibilities for your company, then contact us for specific pricing for your needs.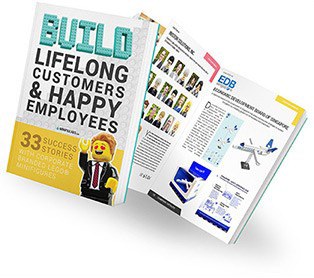 Build Lifelong Customers & Happy Employees
33 Success Stories with Corporate Branded LEGO® Minifigures